Naturo Canine Adult Canned Dog Food Turkey With Fruit & Vegetables in Herb Gravy
Spend

$120.00

to

FREE SHIPPING
Our Grain Free and Gluten Free Wet Dog Food is specifically made for dogs who have sensitive tummies or intolerances, with ingredients carefully selected to help promote a healthy digestive system and a happy, healthy dog.

We are confident your dog will love our delicious Herb Gravy recipe with 50% Turkey, a highly digestible and rich source of essential amino acids, B vitamins, and minerals.

This Grain Free and Gluten Free Wet Dog Food also contains:
- Carrot: a natural source of Beta Carotene which helps dogs produce Vitamin A and helps to prevent disease and infection
- Broccoli: a natural source of antioxidant Vitamin C and Calcium, helping growth and maintenance of normal bone formation, treats skin and heart problems, and shown to have an anti-cancer effect.
- Cranberries: to help support against urinary tract and bladder infections

Omegas 3 and 6 are included in Sunflower and Salmon oils to help maintain healthy skin and promote a healthy coat for your adult dog throughout its life.
Turkey 50%
Carrot, Broccoli and Cranberries 8% (from 1% Dried Fruit and Vegetables)
Minerals
Sunflower Oil 0.125%
Salmon Oil 0.06%
Flaxseed Oil 0.06%
Dried Kelp
Dried Parsley
Dried Chicory Root
Mannanoligosaccharides (Prebiotic MOS)
Dried Nettle
Green Tea
Dried Rosehip
Glucosamine (0.005%)
Chondroitin Sulphate (0.0025%)
Marigold
Calories
Kcal/100g 91
Calories
Kcal/100g 103.
View full details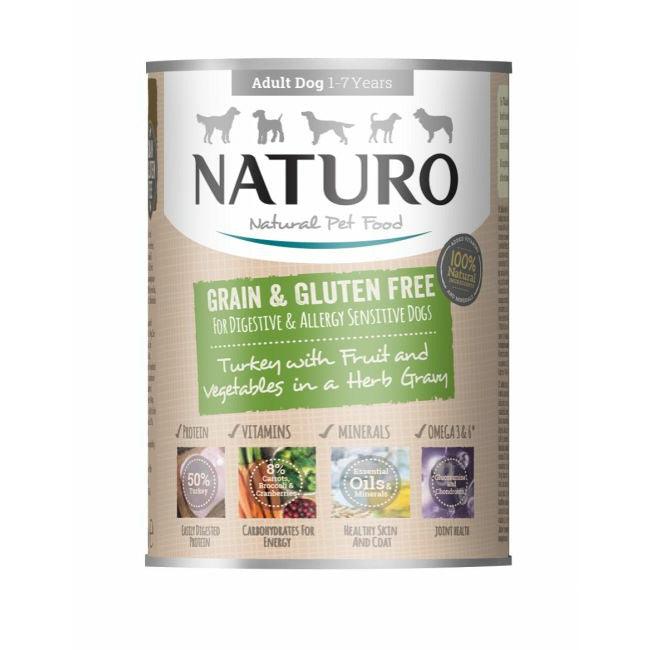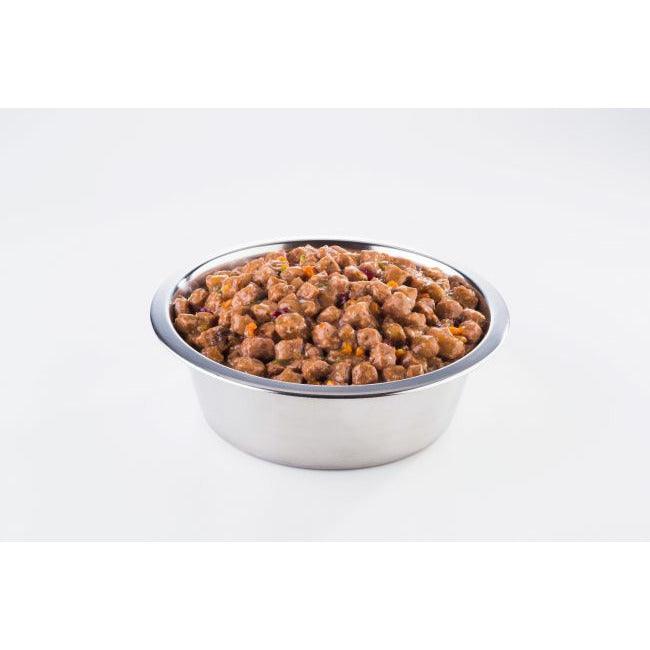 Naturo Canine Adult Canned Dog Food Turkey With Fruit & Vegetables in Herb Gravy